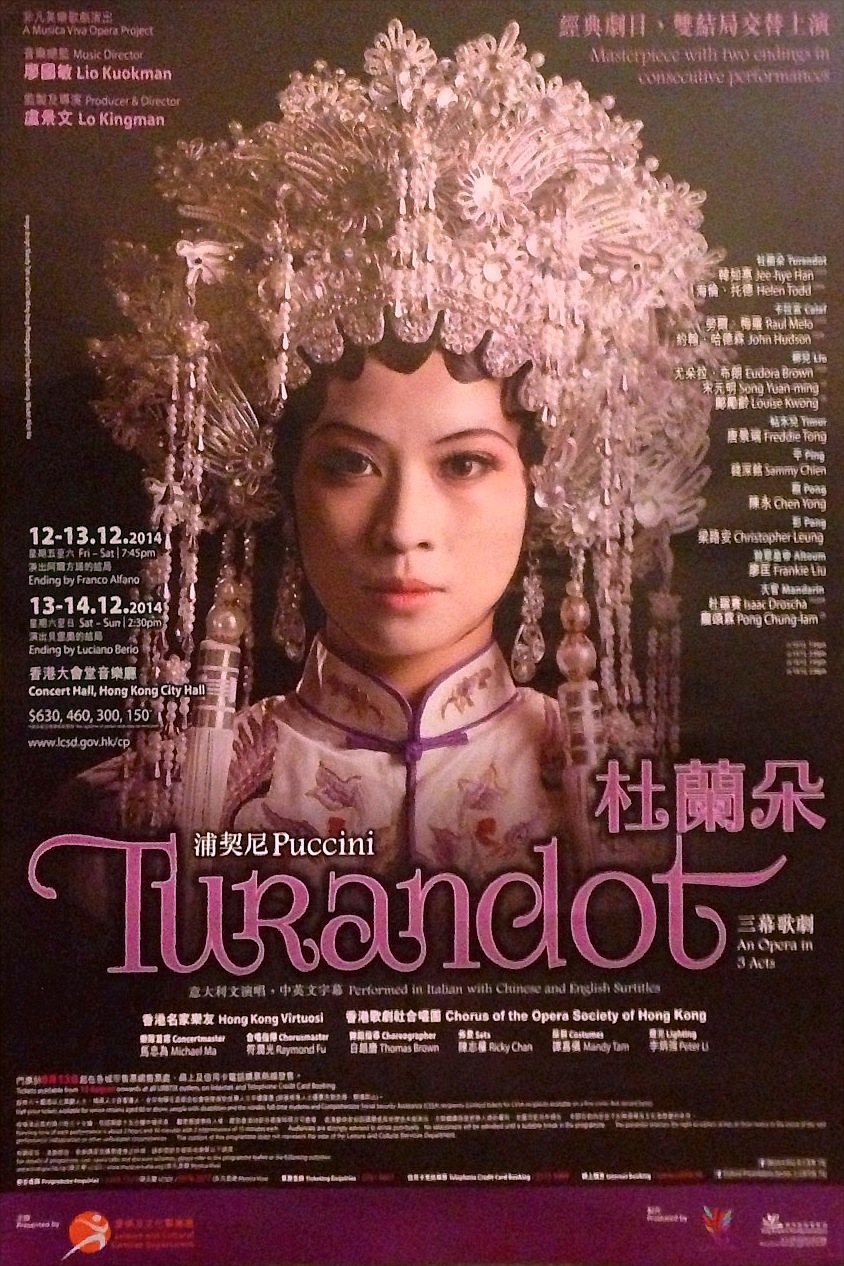 An opera in 3 acts by Giacomo Puccini.

Performed in Italian with Chinese and English subtitles.

4 performances at the Concert Hall, Hong Kong City Hall:
12 December 2014 (Fri) 7:45pm
13 December 2014 (Sat) 2:30pm
13 December 2014 (Sat) 7:45pm
14 December 2014 (Sun) 2:30pm

A Musica Viva production:

Music Director: Lio Kuokman
Producer & Director: Lo Kingman
Chamber Orchestra: Hong Kong Virtuosi
Chorus: The Opera Society of Hong Kong
Chorusmaster: Raymond Fu
Choreographer: Thomas Brown
Sets: Ricky Chan
Costumes: Mandy Tam
Lighting: Peter Li

Ticketing: $630, $460, $300, $150, available from 13 August 2014 onwards at URBTIX

The Opera Society of Hong Kong last performed Turandot in 1996.

Audition for Turandot 2014 (closing 31 August 2014):
http://tinyurl.com/operasociety-aud-140921

Facebook event.


The Cast

Turandot (Soprano): Jee-hye Han(1)(3)/HelenTodd(2)(4)
Calaf (Tenor): Raul Melo(1)(3)/John Hudson(2)(4)
Liu (Soprano): Eudora Brown(1)(3)/Song Yuan-Ming(2)/Louise Kwong(4)
Timur (Bass): Freddie Tong
Ping (Baritone): Sammy Chien
Pong (Tenor): Chen Yong
Pang (Tenor): Christopher Leung
Altoum (Tenor): Frankie Liu
Mandarin (Baritone): Isaac Droscha(1)(2)(4)/ Pong Chung-lam(3)

(1) 12 Dec 7:45pm; (2) 13 Dec, 2:30pm; (3) 13 Dec 7:45pm; (4) 14 Dec 2:30pm

Programme

Turandot is the last opera written by Giacomo Puccini. The Princess Turandot will only marry a suitor of royal blood who can answer three riddles set by her. Anyone who fails will be beheaded. Calaf, heir to the throne of Tartary, successfully answers all three riddles. But Turandot now reneges on her promise. Calaf offers to release her and to die at her hand if she can discover his name before dawn. Finally, Turandot is deeply moved by Calaf¡¦s genuine affections.

When Puccini died in November 1924, he left the final duet and concluding scene of Turandot unfinished. Franco Alfano completed the opera in 1926 based on the sketches and notes left by Puccini. The contemporary Italian composer Luciano Berio was commissioned by the House of Ricordi, Puccini¡¦s publisher, to compose a new ending for the opera in 2002. Musica Viva will perform both the Alfano (in the first and third performances) and Berio (in the second and last) endings in this production. This will not only be the Asian premiere of Berio¡¦s effort, but also the first ever of both endings being presented side by side in consecutive performances of the same production.

Directed by Lo Kingman and conducted by Lio Kuokman, this production features a team of world-renowned opera stars who have sung with the Metropolitan Opera of New York, Chicago Lyric Opera, National Opera in London and some of the most prestigious companies worldwide, performing with excellent artists from Hong Kong.