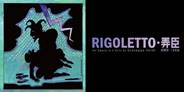 An opera in 3 acts by Giuseppe Verdi.

Performed in Italian with Chinese and English subtitles.


4 performances at the Concert Hall, Hong Kong City Hall:
13 December 2013 (Fri) 7:45pm
14 December 2013 (Sat) 2:45pm
14 December 2013 (Sat) 7:45pm
15 December 2013 (Sun) 2:45pm

A Musica Viva production:

Music Director: Lio Kuok-man
Producer & Director: Lo King-man
Chamber Orchestra: Hong Kong Virtuosi
Chorus: The Opera Society of Hong Kong
Chorusmaster: Raymond Fu
Lighting: Peter Li
Costumes: Mandy Tam
Sets: Allan Tsui

Ticketing: $600, $450, $300, $150, available from 9 August 2013 onwards at URBTIX

The Opera Society of Hong Kong last performed Rigoletto in 1993.

Audition for Rigoletto (closed 31 August 2013):
http://tinyurl.com/operasociety-aud-130915

Facebook event.

The Cast

Rigoletto (Baritone); Michael Corvino (1)(3); Daniel Sutin (2)(4)
Gilda (Soprano): Sang Eun Lee (1)(3)(4); Colette Lam (2)
Duke of Mantua (Tenor): Todd Wilander (1)(3); Jeffrey Hartman (2)(4)
Sparafucile (Bass): Freddie Tong
Maddalena (Mezzo-soprano): Carol Lin
Monterone (Baritone): Sammy Chien

(1) 13 Dec 7:45pm; (2) 14 Dec 2:45pm; (3) 14 Dec 7:45pm (4) 15 Dec 2:45pm


Programme

Rigoletto is an opera in three acts by the Italian genius Giuseppe Verdi, set to a libretto by Francesco Maria Piave based on the play Le roi s'amuse by Victor Hugo. Premiered in Venice in 1851, the work was Verdi's first international triumph and ranks among the most frequently performed operas in the world. The protagonist of the tragic story is a hunch-backed court jester who encourages his master, the Duke of Mantua, to indulge in a licentious and lustful life until his own daughter, Gilda, falls victim to the Duke's seduction. Rigoletto's plot to have his master murdered backfires and results in Gilda's death. Verdi imbued this work with enchanting melodies, strong dramatic situations, powerful characterization and intense emotions. This special production by Musica Viva of Hong Kong features a team of world-renowned opera stars who have sung with the Metropolitan Opera of New York, Chicago Lyric Opera, Royal Opera of London and some of the most prestigious companies world-wide, performing with excellent young artists of Hong Kong. The production is directed by Lo King-man and conducted by Lio Kuok-man.