Opera Archives
| | | |
| --- | --- | --- |
| | Carmen | |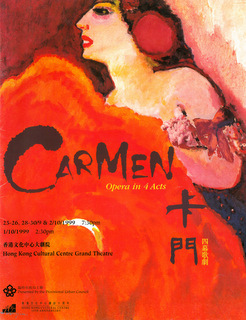 Date: 25-26, 28-30 September and 1-2 October 1999
Time: 7:30pm except 2:30pm on 1 October
Venue: Grand Theatre, HK Cultural Centre
Music: Georges Bizet
Libretto: Henri Meilhac and Ludovic Hal?vy
Original Story: Prosper M?rim?e
The Hong Kong Philharmonic Orchestra
Chorus of the Opera Society of Hong Kong
The Academy Dancers
Conductor: Constantine Kitsopoulos
Chorusmaster: Raymond Fu
Choreographer: Mandy Petty
Repetiteurs: Graham Lilly / Nina Yip
Set Designer: Ricky Chan
Costume Designer: Mandy Tam
Lighting Designer: Kim Lee
Production Manager: Catherine Cheng
Technical Director: Frank Yeung
Producer and Director: Lo King-man
The Cast
Carmen: Sara Fulgoni, Mezzo-Soprano (25/9, 28/9, 30/9, 2/10), Patricia Fernandez, Mezzo-Soprano (26/9, 29/9, 1/10)
Don Jose: Peter Riberi, Tenor (25/9, 28/9, 1/10, 2/10), Warren Mok, Tenor (26/9, 29/9, 30/9)
Escamillo: Stephen Gadd, Baritone
Micaela: Nancy Yuen, Soprano (25/9, 28/9, 30/9), Katusha Tsui-Fraser, Soprano (26/9, 29/9, 1/10, 2/10)
Zuniga: Michael Rippon, Bass
Morales/Dancairo: George Mosley, Baritone
Mercedes: Zhang Qian, Mezzo-Soprano (25/9, 28/9, 30/9, 2/10),Cindy Wong, Mezzo-Soprano (26/9, 29/9, 1/10)
Remendado: Alex Tam, Tenor (25/9, 28/9, 30/9, 2/10), Bastien Tai, Tenor (26/9, 29/9, 1/10)
Frasquita: Maggie Lai, Soprano (25/9, 28/9, 30/9, 2/10), Jovita Leung, Soprano (26/9, 29/9, 1/10)
Andres: Sylvester Che, Baritone
Synopsis of Scenes
Act I A square by the tobacco factory in Seville
Act II A tavern by the wall of the city
Act III Smugglers' hide-out in the mountains
Act IV Outside the bullring in Seville

The Opera Society of Hong Kong
The Opera Society of Hong Kong was established in 1992 by a group of dedicated singers. The Society has since performed its mission to promote western opera, operetta and vocal music in the community in Hong Kong, while maintaining an outstanding standard of performance. The Chorus has been instrumental in enriching the cultural life of the community by performing in a broad range of programmes. Since 1992, the Chorus has performed in a number of acclaimed opera performances staged by the Provisional Urban Council (formerly Urban Council), including those of Otello, Rigoletto, La Traviata, A?da, Lucia di Lammermoor, Turandot and La Boheme, and those staged by the Provisional Regional Council, including The Merry Widow and Die Fledermaus, and also the Hong Kong Arts Festival Chamber Opera Night Banquet. The Chorus has performed in a large number of other works, including Beethoven?s Ninth Symphony, Prokofiev?s Alexander Nevsky and Bach's St. Matthew Passion, with leading local and overseas orchestras such as the St. Martin-in-the-Fields with Sir Neville Marriner, the Hong Kong Philharmonic Orchestra and other groups.
Having members coming from all strata of society, the Chorus is composed mainly of local talent, but also haying membership of other nationalities. With the vision of keeping abreast with world-renowned choruses, the Chorus strives to achieve the best standards. Under the direction of Raymond Fu, Chairman of the Opera Society and Chorusmaster, the Chorus has achieved a consistently high standard of performance that was described as ?Heavenly choir...the chorus limbers up for St. Matthew Passion, the highlight of RTHK?s Easter series of early music.? by the South China Morning Post.
The Society lays emphasis on nurturing its members, who receive intensive training at rehearsals. Through their participation in opera and other productions, members also increase their understanding of the overall process of musical production and interpretation. Additionally, through participating in various master classes organised in line with productions, members broaden their exposure to operatic and musical training. Interested music lovers are welcome to visit the Society?s homepage at www.opera.org.hk.
Chorus of The Opera Society of Hong Kong
Chorusmaster: Raymond Fu
Assistant Chorusmistress: Faith Fung
Rehearsal Pianists: Nina Yip / Wang Ay-wen
Soprano
Chiew Tsz-ying, Sharon
Chiu Wai-tak
Peggy Fung
Fanny Ho
Katherine Kwong
Lai Ka-man
Sandy Lee
Winnie Lee
Li Yuen-yu, Lydia
Mak Ho-yi
Mak Lal-king, Rachel
Mak Yuen-yee
To Ching-pui, Apple
Joanne To
Tse Sui-king
Frances Wong
Pancy Wong
Shiirley Yeung
Tenor
Chan Chi-hang
Cheung Shu-kan
Chung Chi-wing, Andrew
Fung Ying-wai, Wilson
Hon Cheong-wah, Franky
Felix Lam
Henry Leung
lohn Freere Perry
Herbert Tam
Ting Ka-lam
TuckyTo
Tsang Wai-ki
Wong Chi-lok
Tony Wong
Yeung Yun-loong
Yuen Kin-kwan, Peter
Yung Chi-wai, Eric
Alto
Esther Chan
Cheng Ka-yiu
Marilyn Cheng
Fung Hoi-yi
Ho Ngai-zie, Elsie
Rita Leung
LoYim-lan, Bertha
Rachel Lo
Vicky Ma
Ng Hoi-shan
Sun Ching-ching
Sze Siu-wan, Melody
Tsui Sin-yui, Cindy
Tilda Wat
Wong Cheuk-yin, Anita
Wong Ka-ying
Nancy Vong
Bass
Chan Chi-wang
Chan Kwok-kin
Cheng Hoi-chung, Raymond
Cheng Hon-wing, Samuel
Chiu Pak-shing
ChungYing-yin, Desmond
Hung Yiu-tung
Kong Yuk-on
Kwan Ke-lin, Michael
Kwok Kar-kit
Lam Chung-shun
Lee Ka-hing
Rupert McCowan
Pong Chung-lam
Wong Po-to
Matthew Wong
Wu Hiu-fung
Children's Chorus of The Opera Society of Hong Kong
Chorusmistress: Shirley Yeung
Assistant Chorusmistress: Fung Hoi-yi
Instructor: Peggy Fung
Chan Pak-yin
Cheong Sek-chao
Tony Cheung
Carol Chiu
Chong Ching
Ho Chun-ngai
Gordon Ho
Vanessa Kwan
Kwok Sik-lun
Kwong Chi-hang
Sally Lai
Patricia Lai
Jonathan Leung
Davina Levy
Liu Ching-yan
Lo Wai-kwan
Lorraine Lui
Dickson Mok
Ngai Pak-yan
Elizabeth Shen
Tsang Lai-u
Stephanie Tsang
Wong Ho-lun
Michael Wong
Rowena Wong
Michelle Wong
Yam Wan-ting
Yu Wai-chun
Yuen Tik-wan

Back to list