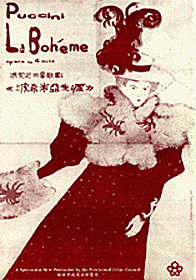 Date: 19/20, 22/23, 25/26 September 1998
Time: 7:30 PM
Venue: Grand Theatre, HK Cultural Centre

Music: Giacomo Puccini
Libretto: Giacosa and Illica
After the novel of Henri Murger
The Hong Kong Philharmonic Orchestra
The Opera Society of Hong Kong
Conductor: Constantine Kitsopoulos
Chorusmaster: Raymond Fu
Rehearsal Pianist: Sun Ching-ching, Patience Fung
Repetiteurs: Lily Yeung, Timmy Tsang
Set Designer: Ricky Chan
Costume Designer: Mandy Tam
Lighting Designer: Leo Cheung
Production Manager: Catherine Cheng
Technical Director: Frank Yeung

Director and Producer: Lo King-man
The Cast
Mimi: Soprano Liping Zhang (19, 22, 25/9), Claire Rutter (20, 23, 26/9)
Musetta: Soprano Sally Harrison (19, 22, 25, 26/9), Katusha Tsui-Fraser (20,23/9)
Rodolfo: Tenor Carlo Ventre (19, 22, 25/9), Robert Lischetti (20, 23, 26/9)
Marcello: Baritone Stephen Gadd (19, 22, 25/9), Kewei Wang (20, 23, 26/9)
Schaunard: Baritone George Mosley
Colline: Bass Derek Anthony
Benoit: Bass Michael Rippon
Alcindoro: Bass Michael Rippon (19, 23, 26/9), Sylvester Che (20, 22, 25/9)
Parpignol: Tenor Wong Chi-chuen (19, 22, 25/9), Alex Tam (20, 23, 26/9)
Sergeant: Bass Wong Po-to
Customs Officer: Bass Pong Chung-lam
Street Performers: Jim Chimm, Eddy Au
Head Waiter: Amornsomboon Pichead
Synopsis of Scenes
Act I An attic in the Latin Quarter of Paris
Act II A square in front of the Cafe Momus
Act III The tollgate at the Enfer barrier
Act IV In the attic
Chorus of The Opera Society of Hong Kong
The Opera Society of Hong Kong was founded by a group of dedicated and enthusiastic singers. They come from all walks of life and share a common desire to promote opera and musical theatre to the people of Hong Kong. Since 1992, the Chorus of The Opera Society of Hong Kong has performed in the Urban Council's productions of Verdi's Otello, Rigoletto, La Traviata and Aida, Donizetti's Lucia di Lommermoor and Puccini's Turandot under the direction of Chorusmaster and Chairman Raymond Fu. In 1996, the Chorus presented A Night at the Opera in association with the Hong Kong Sinfonietta with great success. 1997 was another exciting year for the Chorus. Performances included Beethoven's Symphony No. 9 with Sir Neville Marriner and St. Martin in the Fields presented by The Hong Kong Academy for Performing Arts; Prokofiev's Alexander Nevsky as well as the New Year Concert with the Hong Kong Philharmonic Orchestra and Chorus; Hong Kong Ballet's The Emperor and the Nightingale; and Melodies of New Era Concert in the 97 Reunification Music Festival.
In 1998, the Opera Society took part in the Provisional Regional Council?s first operetta production The Merry Widow in January and J.S. Bach's St Matthew Passion presented by Radio 4, RTHK, both with rave reviews.
Soprano
Sharon Chiew
Brigit Fung
Patience Fung
Peggy Fung
Han Sung-jin
Fanny Ho
Ellie Kung
Katherine Kwong
Lai Ka-man
Lee King-yee
Becky Lee
Esther Lee
Pau Fung-mei
Joanne To
Frances Wong
Pancy Wong
Shirley Yeung
Gloria Yuen
Alto
Petra Bach
Esther Chan
Cheng Ka-yiu
Marilyn Cheng
Cathy Chong
Elsie Ho
Sharon Kwok
Rachel Lo
Vicky Ma
Angel Sin
Sze Siu-wan
Nancy Wong
Tenor
Choi Sze-yick
Simon Kwan
Kenneth Lee
Henry Leung
Orlando Mang
Rupert McCowan
Pun Chi-kit
Ting Ka-lam
Tucky To
Ricky Tsang
Tony Wong
Yip Pak-hay
Peter Yuen
Yung Chi-wai
Bass
Chan Kwok-kin
Chan Chi-wang
Samuel Cheng
Chiu Pak-shing
Ho Kai-wing, Kevin
Kwok Ka-kit
Lee Ka-hing
Milton Leung
David C P Lo
Pong Chung-lam
Tang Sik-sum
Wong Ming-hay
Wong Po-to
Wu Hiu-fung
Children Chorus
Au Hiu-man
Chan Cho-yan
Chan Sei-min
Fiona Chan
Cheung King-him
Cheung King-yan
Cheung Siu-wing
Cheong Sek-chao
Eunice Ho
Ko Hiu-ki
Patience Lai
Lam Yin-ting
Leung On-yue
Jonathan Leung
Davina Levy
Aya Lowe
Lorraine Lui
Athena Mok
Wan Sin-yu
Mancy Wan
Wong Ho-lun
Wong Tze-wai, Keli
Wong Sum-wai, Jenny
Michelle Wong
Eugene Yip