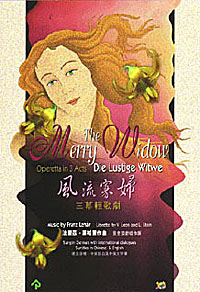 Date: 9-11 January, 1998
Time: 7:30 PM
Venue: Auditorium, Shatin Town Hall

Music: Franz Lehar
Libretto: Victor Leon, Leo Stein
Original Comedy: Henri Meilhac
The Cast
Hanna Glawari: Joanna Kubaszewska, soprano
Danilo Daniowitsch: Warren Mok, tenor
Valencienne: Katusha Tsui-Fraser, soprano
Camille de Rosillon: David Quah, tenor
Baron Zeta: Derek Anthony, bass
Njegus: Michael Rippon, bass
Cascada: Jose de Sousa, tenor
St. Brioche: Bastien Tai, tenor
Bagdanovitsch: Arthur Lathrop, tenor
Sylvane: Winnie Lee, soprano
Kromow: Lam Ho-chi, baritone
Olga: Shirley Yeung, soprano
Pritchitsch: Wong Po-to, baritone
Praskowia: Rita Leung, mezzo-soprano
Manager of Maxim's: Amornsomboon Pichead, actor

The Hong Kong Philharmonic Orchestra
The Opera Society of Hong Kong
Hong Kong Academy Dancers

Conductor: Long Yu
Chorusmaster: Raymond Fu
Rehearsal Pianist: Patience Fung
Principal Choreographer: Graeme Collins
Choreographer: Mandy Petty
Repetiteurs: Lily Yeung / Timmy Tsang
Production Pianists: Lily Yeung / Timmy Tsang
Co-director of staging: Peter Woss
Set Designer: Ivan Cheng
Costume Designer: Gay Wilkins
Lighting Designer: Billy Chan
Technician Manager: Ringo Yu
Production Manager: Catherine Cheng

Director & Producer: Lo King-man
Synopsis of Scenes
Overture Balisirener Waizer
Act I Pontevedrian Embassy in Paris
Act II Hanna's Garden Party
Entr'acte Vilja Ballade
Act III Maxim's of Paris

The Opera Society of Hong Kong Chorus
The Opera Society of Hong Kong was founded by a group of dedicated and enthusiastic singers. They come from all walks of life and share a common desire to promote opera and musical theatre to the people of Hong Kong. Since 1992, the Hong Kong Opera Society Chorus has performed in the Urban Council's productions of Verdi's Otello, Rigoletto, La Traviata, Donizetti's Lucia di Lammermoor and Puccini's Turandot under the direction of Chorusmaster and Chairman Raymond Fu. In 1996, the Chorus presented A Night at the Opera in association with the Hong Kong Sinfonietta. 1997 has so far been another exciting year for the Chorus. Performances have included Beethoven's Ninth Symphony with Sir Neville Marriner and St. Martin in the Fields presented by the Hong Kong Academy for Performing Arts, Prokofiev's Alexander Nevsky and the New Year Concert with the Hong Kong Philharmonic Orchestra and Chorus, and Verdi's Aida presented by the Provisional Urban Council.
Soprano
Chiu Wai-tak
Patience Fung
Fanny Ho
Ellie Kung
Sandy Lee
Sonia Lee
Winnie Lee
Noel Leung
Mak Yuen-yee
Angel Man
Shirley Yeung
Yu Sau-chu
Gloria Yuen
Alto
Petra Bach
Marilyn Cheng
Cathy Chong
Esther Chung
Sharon Kwok
Katherine Kwong
Rita Leung
Chris Lo
Ma Wing-ki
Shirley Pau
Juniata Wible
Nancy Wong
Tenor
Alberto Choi
Ku Kin-keung
Kenneth Lee
Henry Leung
Robin Mak
Ken Ng
Tucky To
Ricky Tsang
Stanley Wong
Tony Wong
Bass
Herbert Au Yeung
Patrick Chan
Raymond Cheng
Samuel Cheng
Aric Hung
Kong Yuk-on
Enoch Lam
Pierre Lam
Colin Lau
Tang Sik-sum
Wong Po-to