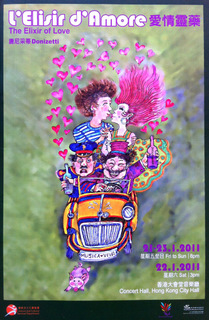 Date: 21, 22, 23 January 2011 (Fri-Sun)
Time: 8:00 pm (additional 3:00 pm matinee show on 22 Jan 2011)
Venue: Concert Hall, Hong Kong City Hall

L'Elisir d'Amore (The Elixir of Love) is a comic opera in 2 Acts sung in Italian with Chinese and English subtitles. Libretto by Felice Romani after Le Philtre by Eugene Scribe.
Producer/Director: Lo Kingman
The Opera Society of Hong Kong
Chorusmaster: Raymond Fu
Chamber Orchestra: Hong Kong Virtuosi
Conductor: Lio Kuok-man
Set Designer: Allan Tsui
Lighting Designer: Maggie Law
Costume Designer: Lau Chung-yan
A Musica Viva Production.
"A stronger production all round, it's a big step forward for the troupe.... A notable strength is the impressively well-balanced, focused singing by the Opera Society Chorus.'"- review by South China Morning Post, 25 January 2011, on the opening performance.
Soloists
Nemorino: Dominic Armstrong, Alex Tam
Adina: Christina Haldane, Stefanie Izzo
Dulcamara: David Ward, Freddie Tong
Belcore: Benjamin Bloomfield, Albert Lim
Giannetta: Lam Wing-wing, Sandy Leung

Chorus of The Opera Society of Hong Kong
The Opera Society of Hong Kong was established in 1992 by a group of dedicated singers. The Society has since fulfilled its mission to actively promote western opera and vocal music in the community in Hong Kong, while maintaining an outstanding standard of performance. With the vision of keeping abreast with world-renowned choruses, the Chorus strives to attain a professional standard. Since its establishment, the Chorus has performed over 15 operas and a rich choral repertoire. The Chorus made its highly successful debut in the Mainland in 1999 and was invited by the Guangzhou Symphony Orchestra to join their Millennium Concerts in Dongguan and Guangzhou. The Chorus has also worked with famous orchestras such as Academy of St. Martin in the Fields and the Hong Kong Philharmonic Orchestra. In September 2004, the Chorus received high acclaims in the performance of opera Faust, which was directed by Lo Kingman. In 2005, 2006 and 2008, the Chorus was invited by the RTHK Radio 4 to participate in the Christmas Eve concerts and performed Handel's Messiah, Vivaldi's Gloria and ?A World Christmas?. Recent performances including La Perichole in Le French May 2008, Musica Viva?s productions Madama Butterfly (2009), La Fille du Regiment (2010) and L'E'lisir d'Amore (2011). In May 2010, the Chorus of the Opera Society of Hong Kong performed with tenor Andrea Bocelli in his Asia tour stop in Hong Kong. The Opera Society recognizes the importance of its members? musical and technical development and offers frequent opportunities for masterclasses and advanced training.
Chorusmaster: Raymond Fu
Rehearsal Pianist: Ronald Cheung

SOPRANO
Au Ho-yan, Agnes
Roxana Castillo
Shirley Fu
Ho Kwok-in, Connie
Katherine Kwong
Amy Lai
Winnie Lee
Li Si-lai
Angel Man
Ng Yee-kiu, Erica
Tse Fong-chung, Jessie
Pancy Wong

ALTO
Chui Shing-yan, Janet
Ho Yuen-man, Flavia
Lovina Hui
Lam Wai-yee, Maria
Law Pui-ha
Veronica Leung
Rita Leung
Connie Ng
Yip Chi-kwan, Yvonne

TENOR
Chan Kam-hung
Cheung Man-yee, Leslie
Chung Chi-wing
Hung Sze-hang, Edison
Felix Lam
Orlando
Poon Kit-sang, Anthony
Poon Ian-hay, Isaac
Ting Ka-lam
Wong Chi-lok
Yau Kai-chung
Yeung Yun-loong
Eugene Yip

BASS
Chan Kam-yan, Eddie
Chan Po
Kwok Kar-kit
Albert Kwong
Lam Chun-ting, Michael
Li Yat-sing
Mak Kin-chee, Eddy
Phillip McDonald
Pong Chung-lam