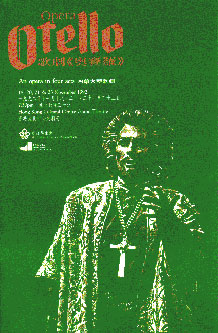 Date: 18, 20, 21, 23 November 1992
Time: 7:30pm
Venue: Grand Theatre, Hong Kong Cultural Centre
Music: Giuseppe Verdi
Book by Arrigo Boito, after the play by William Shakespeare.
PRINCIPAL ARTISTS
Bruno Sebastian, Otello, tenor
Ivan Kusnjer, Iago, baritone
Karen Notare, Desdemona, soprano
Warren Mok, Cassio, tenor
Hao-jiang Tian, Lodovico, bass
Cynthia Luff, Emilia, mezzo-soprano
William Siu, Roderigo, tenor
Wong Chi-chuen, A Herald, tenor
Christopher Denney, Montano, bass
Hong Kong Opera Society Chorus
Chorusmaster: Raymond Fu
The Hong Kong Philharmonic Orchestra
Conductor: Victor de Renzi

The Story
The setting in Cyprus in the mid-sixteenth century, when the island was under the rule of the Republic of Venice. Otello, a Moorish general in the Venetian army, was the governor. He had recently promoted Cassio as captain. For that, his ensign Iago hates him bitterly while pretending to be loyal and honest. Roderigo, a Venetian gentleman who nurtured a secret love for Otello's wife Desdemona, had followed her to Cyprus. The opera begins with a raging storm at night.
Act I
Otello returns from battle and his ship arrives as the tempest subsides. He is greeted by a cheering crowd as he announces his victory over the Turks. Iago sets out to plot his vengeance by making Cassio drunk and inciting Roderigo to proboke a brawl, in which a senior officer, Montano, was wounded. Otello at once restores peace and in his anger dismisses Cassio. Left alone, Otello and Desdemona tenderly recall their courtship in a profound expression of love and happiness.
Act II
Iago advises Cassio to seek Desdemona's help in regaining Otello's favour. Then, alone, he proclaims his belief in a cruel god of evil who inspires his hatred and malignity. With Otello, Iago succeeds in arousing his suspicions of Desdemona's faithfulness with casual hints of her intimate relationship with Cassio. When indeed Desdemona comes to plead for Cassio's pardon, Otello becomes distraught. Fearing he is ill, she tries to soothe his brow with the handkerchief which is his first gift of love. This he throws to the ground and is picked up by Emilia, Iago's wife and Desdemona's lady-in-waiting. From Emilia's hand, Iago snatches that handkerchief away. Otello orders the women to leave, and Iago poisons his mind further by describing how he heard Cassio call Desdemona's name in his dream and saw her handkerchief in his hand. Frantic with rage, Otello swears revenge.
Act III
Iago assures Otello of more proof of Desdemona's guilt and leaves as he sees her approaching. When Otello demands the handkerchief, Desdemona again pleads for Cassio's reinstatement. He calls her a courtesan and forces her out. Alone, Otello bewails his misery. He hides as Iago returns with Cassio engaged in a light-hearted conversation. Eavesdropping at a distance, Otello believes Cassio to be talking about Desdemona. Iago cleverly flashes her handkerchief for him to see. Thereupon Otello resolves to kill his wife that night. The ambassador Lodovico arrives to announce the ruling Council's decision to recall Otello to Venice and the appointment of Cassio as the new governor. Otello loses control and strikes Desdemona. Having rudely dismissed the courtiers, he collapses in fit.
Act IV
Desdemona sings the willow song, about a forsaken maiden. She bids Emilia good night, says her prayers and retires to bed. Otello comes in, and his kiss awakens her. Without hearing her protestations of innocence, he suffocates her. Emilia knocks and cries for help. Before Lodovico, Cassio and others, she reveals Iago's treachery. Otello realises his tragedy and stabs himself, dying upon one final kiss on the chaste Desdemona.
CHORUS
SOPRANO
Chan Sim-fong, Simfonia
Wini Chiu
Kang Tae-eun, Sarah
Kung Shuk-ring, Beatrice
Leung Po-pui, Noel
Linda Peach
Sze Wing-oil, Nancy
Yeung Shuet-kwan, Shirley
Maureen Chan
Fung Hoi-yi
Ho Ming-chong, Fanny
Lee King-yee
Lee Lai-hung
Tam Wai-kwan
Lee Sau-nin, Sonia
Leung Sin-man, Melissa
Sung Mei-kwan
Yu Sau-chu
ALTO
Lee Wai-sze, Grace
Cathy Chong
Chung Shun-wai, Esther
Sheena Graham
Ko Wai-kwan, Vivian
Leung Shuk-han, Rita
Pau Wai-mei
Wat Hoi-yee, Tilda

TENOR
Neil Drave
Tim Groves
Ng Chee-sing, Stephen
Tse Shu-chee
Wong Chi-chuen
Chow Chung-kai
Kenny Lui
Lam Li, Leo
Suen Chung-yin
Ivan Szeto
Gary Tong
Wong Chi-lok
Raymond Yeung
Herbert Tam
BASS
Andrew Carverhill
Lam Ho-chi
Leung Yiu-ming, Brian
Mang Hoi-pui
Eric Tang
Rolief Yam
Cheng Hoi-chung
Cheung Kin-wah
Fung Ki-shui
Colin Lau
Nick Mainprice
Ng Ka-yin, Kelvin
So Chun-cheong
So Wai-sang
HONG KONG OPERA SOCIETY CHORUS
Chorusmaster: Raymond Fu
Pianist: Fung Yuen-bong, Faith
Chorus Secretary: Yeung Shuet-kwan
Honorary Treasurer: Andrew Carverhill
Membership Officer: Sheena Graham
Committee Member: Mang Hoi-pui, Eric Tang
Founded in September 1992, the Hong Kong Opera Society Chorus has 54 members all singing in the current production of Verdi's Otello. Under the supervision of the chorusmaster Raymond Fu, the chorus aspires to attain the standard of some of the best and long-standing western opera choruses in terms of dedicated commitment and enthusiasm for music. The society's members are from all walks of life. These founders of the society all share the common interest in promoting western opera and musical theatre to the public and in assisting local professional productions of grand opera.
Raymond Fu is regarded as one of the most talented choral conductors in Hong Kong. His meticulous approach to interpretation and strict requirements of discipline enable his choirs to achieve utmost expressiveness to their fullest potentials. Holder of a degree in music education from Sterling University, Scotland, he studied conducting with Moses Wu at the age of fifteen and immediately won many first prizes at the Schools Music Festival. In 1977, he was appointed choir manager of the Silver Jubilee performing group which gave 18 concerts in the United Kingdom. In 1978, he was awarded a scholarship to study church music in England. Raymond Fu was for various periods conductor of the Pro-Musica Chorus and the Hong Kong Jubilee Singers. He was appointed chorusmaster of the Hong Kong Chorus in 1983. Over the years, he has been actively involved in mote than 15 opera productions. He is currently head of the music department of St. Paul?s College and master of the St. John's Cathedral Choir.